'The Princess Diaries'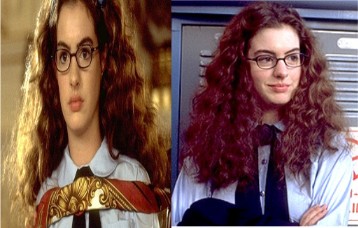 Pictures:
Pic 1
Pic 2
Pic 3
Pic 4
Pic 5
Pic 6
Pic 7
Pic 8
Pic 9
Pic 10
Pic 11
Pic 12
Pic 13
Pic 14
Movie Trailer:
http://server2038.virtualave.net/trailers-world/cgi-bin/info.cgi?movie=1189
Movie Poster:
Click here.
Articles:
http://www.angelfire.com/tv/erik2/princessevd.html
From 'Rock 'n' Roll Reporter Magazine' (July 2001):
The Princess Diaries
Walt Disney Pictures
Directed by Garry Marshall
Starring: Anne Hathaway, Heather Matarazzo, Robert Schwartzman, Larry Miller, and Julie Andrews
Whitney Houston, usually the prevailer of soundtrack chart-toppers and the occasional actresses herself, takes a trip behind the scenes as an Executive Producer for the new Disney release 'The Princess Diaries', based on the popular children's novel by Meg Cabot.
Anne Hathaway stars as an average teen who learns she is the Princess of an obscure European kingdom. When the Queen (Julie Andrews) of said kingdom comes to collect the heiress for proper princess training and the eventual ascension to the throne, Hathaway is faces with a dilemma. Abdicate and shun her responsinilities to the throne to live the normal life of a teen girl or abandon friends and romances to accept her duty. Young'uns might not even remember Andrews as the charming Mary Poppins, but what girl hasn't dreamed of being a princess. This should be a fun family friendly comedy.
To see Picture of article, click here.

From 'Teen Magazine' (August 2001):
The Princess Diaries (Buena Vista)
Mia Thermopolis (Anne Hathaway) just found out that she's the princess of Genovia. So what's next? A makeover, of course. Her gandmother, Queen Clarisse Renaldi, is determined to turn this Plain Jane into royalty, but will Mia give up everything, including two stately babes (Erik von Detten and Robert Schwartzman) to fulfill her family responsibility? See the movie.
Click here to see a picture of the article.
-----
Official Site:
Princess Diaries.com/
Release Date: August 3rd, 2001.
More will come soon :)